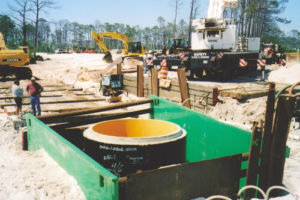 Our services include:
Water & Sewer Pipe Installation & Repairs
Manhole Replacements
Installation by Directional Drilling
Lift Stations
Sewer Bypass
In our Showcase Projects, we have pictures of two (2) of our recent projects that we are proud of.  The Satsuma Wastewater project proved to be a challenging job.  Working around water has never been an issue, since that is our main line of work, but when you get in water it can become a little bit more difficult.  Our people overcame these difficulties to complete this job.
Choctaw Point, as every job, had it's own little quirks.